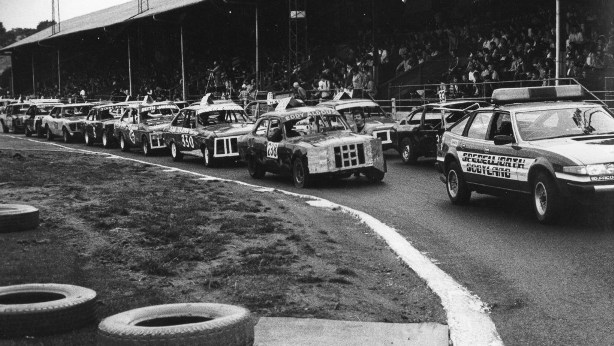 1983 World Championship Line Up (photo knockhillimages@smugmug.com)
It's fair to say the bulk of the crowd were not to happy with Eddy Aldous being drawn on the front row. Eddy had easily been the most successful English Saloon Stock visitor to Cowdenbeath, there was rightly considerable fear that Eddy might just run away with it. Thankfully for the demeanour of the home fans Gordon Brown, Neil Petrie, Robert Bruce & Keith Jarman were also drawn near the front. From the off Eddy Aldous briefly held the lead until Robert Bruce got through. Gordon Brown spun but got going again very quickly, the order being Robert Bruce, Keith Jarman, Eddy Aldous, Gordon Brown , Neil Petrie and Allan Ross.
The race was red flagged when the fence got uprooted and only 20 runners were left at the restart. The order was now Robert Bruce, Keith Jarman, Eddy Aldous, Neil Petrie, Gordon Brown, Wille Miller.
Another stoppage this time When Louis Haagen rolled after tangling with Keith Jarman and Louis's roof got flattened. Thankfully Louis emerged with no serious injury.
Groans from sections of the crowd when Keith Jarman & Bob Jones pulled off unable to make the re-start. The order for the last 13 laps Robert Bruce, Gordon Brown, Noddy Robinson, John Burns, Harry Burgoyne. Robert Bruce started to slow and more "banger" type tactics came to the fore where competitors merely tried to take out the car nearest to them! Neil Petrie was now in front, followed by Gordon Brown & Robert Bruce. Gordon took the lead after Neil collided with another car that had rolled with only 3 to go and he didn't let go, Neil came through for 2nd, Robert recovered for 3rd after he had been spun by Eddy Aldous, John Burns 4th, Harry Burgoyne 5th & Eddy Aldous 6th, Willie Miller 7th - no other cars finished.
In the other heat race on Saturday it was another bruising affair, Keith Jarman won from Willie Miller & Harry Burgoyne, Keith spun out every single visiting driver on his way to the win, only 6 cars finished. In the Final it was a Scottish star finish, Robert Bruce, Keith Jarman, Bob Jones.5 cars completed the distance.

24 cars lined up for the "Solid Fuel Advisory Service" Open Scottish Championship on the Sunday Prize money 1st - £150, 2nd - £75, 3rd - £40, 4th - £20, 5th - £10, 6th - £5.
Reigning Champion Keith Jarman retained his title in fine style form his mid grid starting position. Only 6 cars running at the finish.

Keith Jarman won the heat race on the Sunday as well, Bob Jones again the runner up. The Final was another difficult event to survive, Willie Miller did that better than the rest. The rest only, consisted of only 5. Gaining the best result for England over the two days, Eddy Aldous was 2nd, Gordon Brown 3rd, Colin Robertson 4th & Noddy Robinson 5th.