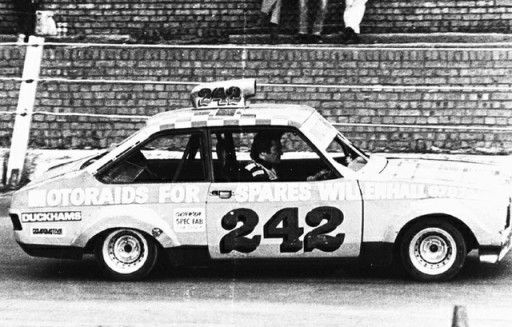 242 Pete Stevens The BIG Winner Over The BIG WEEKEND (photo knockhillimages@smugmug.com)
AUGUST
And so to the "Big Weekend" at Cowdenbeath on the 4th & 5th of August. Alas at this stage I am not in possession of all the results. However the weekend kicked off for the Hot Rods with race 4 on the programme the European Championship. The 20 car grid was decided by a public draw executed by "Short Circuit Magazine" editor Ann Neal.
Keith Dann was in pole position with Neil Facey alongside. Neil Facey took up the early lead however it was reigning champion Pete Stevens who "forced" his way through from his 3rd row grid position sending John Carding sideways (but unpunished of course). It was Norman Woolsey from the 5th row who got through into 2nd & quickly caught up with Pete Stevens. These two pulled well clear of the rest. Malcolm Chesher produced probably the best performance in the race by getting through to 3rd from his grid spot towards the rear of the field. This was the finishing order. Pete & Norman some way ahead of Malcolm. Race 9 on the Saturday afternoon programme & race's 11 & 15 on the Saturday evening were billed as the "Bisset Tyres Trophy" for Hot Rods, so I'm not quite sure what was going on, possibly "Bisset Tyres" were providing sponsorship for all the Hot Rod heats. Unfortunately I have no details for these races.
Saturday Evening Session:- Race 19 was the "UK Challenge Trophy". I believe the heat races previously referred to, determined a grid for the championship race. Obviously then Malcolm Chesher & Graham Wait were particularly successfully in the heats as they occupied the front of the grid with Pete Stevens & Leslie Dallas on the 2nd row. Graham made a crappy start which through unfortunate circumstance for Malcolm held him up but allowed Pete Stevens & Leslie Dallas to power through with Leslie in front. He then held on to the flag, Pete Stevens remained in 2nd & a recovering Malcolm Chesher came home 3rd.
Sunday the 5th, race 24 was for the "Granbuild Ltd. Open Scottish Championship". Another public draw for grid positions had John Carding on pole. John led the race until Pete Stevens (another championship he was defending) shot past from his 2nd row grid draw. He did seem to be quite lucky with public grid draws. Norman Woolsey again provided Pete with his closest competition. It was Graham Wait on this occasion who came through for 3rd. Only one other Hot Rod race on the Sunday which seemed a bit strange. But then when you are trying to cram in Saloon Stocks, 1300 Stock Cars, Stock Rods & Superstox as well as the Hot Rods with endless grid draws. This is what happens.
Anyway the "JEM Motors Trophy" "Final?" was another win for Leslie Dallas.
This was a very successful weekend of racing with a reasonable turn out of fans, marred by too many formulae and lengthy public grid draws.
12th August & 7 cars still made it to the meeting following the previous weekends heavy work load. Graham Wait chalked up another two heat wins, a clash with Brian Leckie in Final resulted in his retirement from the race. Willie Miller came through for Final victory number 7 of the season, following him home were Ian Ostrau & Alan McBurney.
Only 6 cars for the 19th August fixture. Ian Ostrau capitalised on his 2nd place in last weeks Final by taking the flag in the first heat. Ian had never really been in the limelight despite being a long time competitor in a number of Stock Car racing formulae over the years. In fact he featured as a red top driver at Motherwell as far back as 1971. Malcolm Chesher was heat 2 winner. Billy Bonner went on to win Final number 4 for the season. Graham Wait was 2nd & Willie Miller 3rd.
August's schedule was rounded out on the 26th August, only 7 cars, with only 5 finishers in the first heat & 4 finishers in the next heat & Final. Willie Miller took heat 1 victory while Graham Wait took the next & the Final, Brian Leckie was 2nd & Willie Miller 3rd.